Being Creative
Being Creative opens the door to imagination and looking at the world in new ways. Creativity is fundamental to what it means to be a successful teacher and a successful learner. Creativity defines how students engage in learning: asking the right questions to generate new ideas, evaluate information, and construct information in new ways. It defines how teachers engage in teaching: facilitating connections, leveraging technology and finding innovative ways to demonstrate concepts and assess learning. Creativity pushes our Board leadership to put new ideas into practice, to be adaptive, flexible and forward thinking.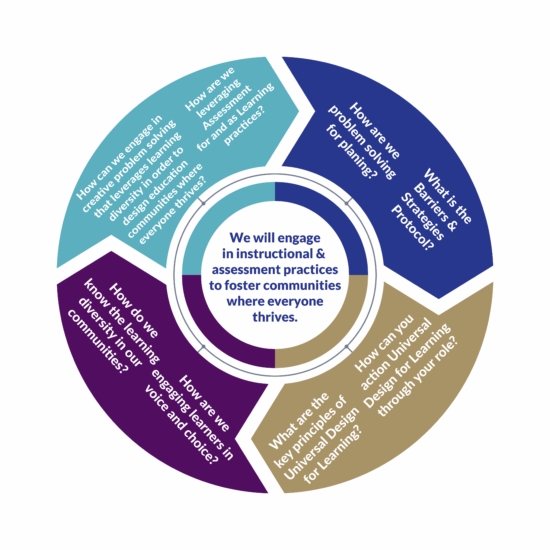 We will engage in instructional and assessment practices to foster communities where everyone thrives.
How can we engage in creative problem solving that leverages learning diversity in order to design education communities where everyone thrives?
How are we problem solving for planning? What is the Barriers and Strategies Protocol?
How do we know the learning diversity in our communities?
How are we engaging learners in voice and choice?
What are the key principles of Universal Design for Learning?
How can you action Universal Design for Learning through your role?
How are we leveraging Assessment for and as Learning practices?
Ensuring Equity
Equity Goal:  We will foster practice in reflection on social location (or intersectionality; the unique constellation of benefits and disadvantages each of us carry due to different aspects of our identity and lived experience) to promote connections in learning environments.
Meaningfully engage with self-reflective practices as an individual and support those practices in others (e.g. peer consultation, ensuring space in team meetings for team reflection, etc.)

Establish and engage in Communities of Practice for important topics related to equity and mental health
Learning Actions to Create a Culture of Belonging
Ensuring Equity to create a culture of belonging that promotes spiritual, emotional, mental and physical safety through advocacy and aspiring allyship.
We will provide staff with the necessary space and time to engage in reflective dialogue, identify personal learning goals and engage in learning through an equity lens.
We will review curriculum resources through a culturally relevant and responsive pedagogy lens to critically evaluate the resources we use to ensure materials represent diverse perspectives.
We will use the Student Census Survey Data and Equity Continuum Resource (OISE) to inform our Catholic Board and School Improvement goals on an annual basis.
Expanding Technology to enable staff and students to apply, analyze, evaluate and create their thinking and learning in creative and innovative ways while encouraging staff and students to develop new ways of using technology.
We will provide all students with appropriate technology and implement a balanced inquiry-based model of online and in-person learning so that students can clearly make their thinking visible and use technology where most impactful.
We will facilitate ongoing learning and increase the confidence of educators and students with up-to date, real-world applications and technologies that meet industry standards and will support our students well into the future.
We will ensure students and staff are provided with a growing repository of applications, programs and learning opportunities that meet safety and privacy requirements as they competently employ technology to demonstrate their thinking and learning.
Protecting the Environment
We will prioritize environmental education learning expectations in all schools by providing the necessary staff training to build capacity among teachers and leaders, ensuring that environmental topics in the current K-12 curriculum documents be taught and assessed for all students.
We will strive to certify all schools in an environmental stewardship program.
We will develop short and long-term environmental plans for the Board, creating a multi-disciplinary resource committee on the environment and reporting to the Board of Trustees twice per year to assess the progress being made toward the established goals.