Being Well
Being Well is at the heart of doing well. We can only put our best foot forward in the classroom when we create the conditions for success. We know that we have to take care of our own wellness and that of others - to support students and staff alike in striving to be our best selves every day. Supportive, inclusive and effective learning environments require connectedness and supportive relationships among all members of the learning community in order to ensure physical and emotional safety of self and spirit. Academic excellence occurs in an environment where love, caring and belonging are foundational elements.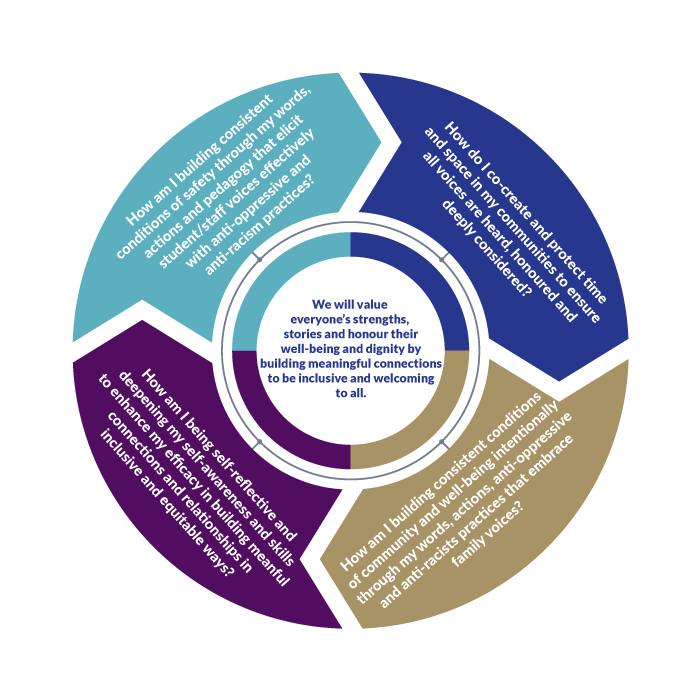 We will value everyone's strengths, stories and honour their well-being and dignity by building meaningful connections to be inclusive and welcoming to all.
How am I building consistent conditions of safety through my words, actions and pedagogy that elicit student/staff voices effectively with anti-oppressive and anti-racism practices?
How do I co-create and protect time and space in my communities to ensure all voices are heard, honoured and deeply considered?
How am I being self-reflective and deepening my self-awareness and skills to enhance my efficacy in building meaningful connections and relationships in inclusive and equitable ways?
How am I building consistent conditions of community and well-being intentionally through my words, actions, anti-oppressive and anti-racists practices that embrace family voices?
Essential Practices to Create a Culture of Belonging